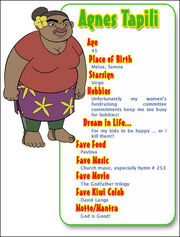 Agnes Tapili is the main antagonist in the animated series 
Bro'Town
. She should appear as an upcoming DLC playable in Playstation All-Stars Battle Royale. He in-game rival should be
Twilight Sparkle
from
My Little Pony: Friendship is Magic
.
Biography
Edit
She'll Kill You 'Til Your Dead
Agnes Tapili (or Mrs. Tapili to some people) is Sione's religous yet abusive mother. She's apart of a woman's comuity fundraiser and has a crush on the reveren minister. She's also a fan of "Sex and The City".
THE LEGACY OF AGNES
TBA...
Name: Twilight Sparkle
Reason: TBA...
Connection: Both Agnes and Twilight originated in animated shows about friendship. Agnes is the main antagonist in the original and Twilight is the main protagonist in the later.
TBA...
Agnes is heavy which could mean she's slow. Yet, her steighth a higher because she's abusive.
(Square Moves) Uses her hands
(Triangle Moves) Using flip-flops to attack
(Circle Moves) Uses items that relate to her in the series (even Sampson).
Level 1 Super- Uses the sword she used in "Touched By A Teacher".
Level 2 Super- Makes a call and have a police car fall on a fighter for a kill.
Level 3 Super- Scores a jackpot on a slot mechaine and have her opponiets turn into bags of gold (similar to Nathan Drake's Level 3 Super).
Quotes and Taunts
Edit
Rain in Spain Falls Mainly on the Drain: makes a goose-laugh
Character Selection:

"I'll Kill Ya 'til your dead"
"You wanna get pregnet?"
"Sione, Is that you?"

Pre-Match:

"Have you pollish the lampost, Scrub the sidewalk, Read the manual?"
Family Values: Looks at the camrea and says "Have you pollish the lampost, Scrub the sidewalk, Read the manual?".
Making Money: Prepare for a match with a slot machaine on the side.
Winning Screen
Edit
Victor Goes Spoiled: Grins and holds a pavola .
Losing Screen
Edit
If using Victor Goes Spoiled: Hits the camera w/ a flip-flop.
Agnes's appearance from "Sionerella".
What she wears in her woman fundraiser comitee.
One of her Costumes from season 3.