Alisa the Daedric Knight is the main protagonist of The Elder Scrolls V expansion pack; Dawnguard. Her rival is Noel Vermillion.
Biography
Edit
KNEEL BEFORE ME...
A former servant of Mehrunes Dagon escaped the Planes of Oblivion during the Oblivion Crisis, discovering her newfound powers as Daedric blood merged with her Redguard blood. She became the knight to protect Tamriel and champion of the Daedrics as she began to take down any Dremora who trepasses Tamriel. Her new adventure begins, as she began to fight any warriors from outside of Tamriel and to take down the self-proclaimed Daedric Prince of Battle Royale.
THE LEGACY OF ALISA THE DAEDRIC KNIGHT
The Elder Scrolls V: Skyrim
Alisa senses that warriors gathered here was Mehrunes Dagon's doing, as she sets out to stop whose behind of it.
Name: Noel Vermillion
Reason: TBA
Connection: Both Alisa and Noel are dual-wielders. Alisa's weapons are Daedric Sword and Ebony Sword and Noel's weapon is Arcus Diablolus: Bolverk. Both of them use a powerful form for a special purpose. Noel can turned into Mu-12 to save Tsubaki Yayoi, while Alisa using her demon form to destroy Delphine and Esbern.
Alisa returned to Sky Haven Temple, and defeated the self-proclaimed false Daedric Prince, knowing that Eola and Serana told her was right or was it her blood. Alisa will use Polygon Man's power to kill Delphine and Esbern once and for all.
Daedric Armor
Edit
The default appearance of Alisa, which is based on The Elder Scrolls V: Skyrim.
Black/Red: Current color of the Daedric Armor
Green/Black: Color of the Orcish Armor
Red/Red: Color of the Daedric Armor from The Elder Scrolls IV: Oblivion
Yellow/Red: Color of the Dwarven Armor
Ebony Armor
Edit
This armor was seen in The Elder Scrolls V: Skyrim.
Black/Black: Current color of the Ebony Armor
Gray/Black: Color of Steel Plate Armor
White/Black: Color of Wolf Armor
Brown/Red: Color of Imperial Armor
Serana will be unlocked when you reached Level 8 with Alisa.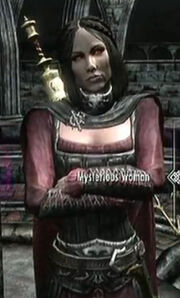 Ad blocker interference detected!
Wikia is a free-to-use site that makes money from advertising. We have a modified experience for viewers using ad blockers

Wikia is not accessible if you've made further modifications. Remove the custom ad blocker rule(s) and the page will load as expected.