Aveline de Grandpré 
is the main character from the PSVita game
Assassin's Creed III Liberation
and an upcoming DLC character in
PlayStation All-Stars Battle Royale
.
Aveline de Grandpré
 (1747 - unknown) was an 
Assassin
 of
French
 and 
African
 heritage, who lived in the area of 
New Orleans
towards the end of the 
French and Indian War
.
Born to the wealthy French merchant 
Philippe Olivier de Grandpré
and an African slave by the name of 
Jeanne
, Aveline was raised in a comforting and privileged environment. In 1759, she took it upon herself to free a slave and was caught by sailors employed by the man's owner. However, she was rescued by an Assassin called
Agaté
, who recruited Aveline into the Assassin Brotherhood and became her 
Mentor
.
Biography
Edit
Aveline was born in 1747 to Philippe Olivier de Grandpré, and his African placée bride, Jeanne. Granted freedom along with her mother at birth, Aveline grew up in a caring and considerate environment, protected by her father's wealth and influence within the city. Although her father married Madeleine de L'Isle in 1752, Aveline and her mother Jeanne were allowed to stay at the de Grandpré mansion.
In 1759, whilst Aveline was accompanying her mother through the city, Jeanne mysteriously vanished after Aveline had let go of her hand in pursuit of a loose chicken. After failing to catch the animal despite chasing it for quite a distance, Aveline realized that she had stumbled across a slave auction. Shortly after observing the slave trader, Aveline used the alleyways to evade the sight of the slavers surrounding the stage and seek out her mother, only to reach out and touch the wrong woman, who had been dressed in the same attire as her mother.
This mistake caught the attention of the city guards, and despite her cries for her mother, Aveline was pushed to the ground by the slavers, who had mistaken her for a slave child. Shortly afterwards, an escaped slave by the name of Agaté freed her from their possession, and recruited her into the Assassin Order, becoming her Mentor.
THE LEGACY OF AVELINE DE GRANDPR
Assassin's Creed III Liberation
my peolpe in salve i assassin i go to stop it i've heard of this thing like..but this thing to help my peolpe to freedom and go to stop british o.k let do 
Rival: Ryu  hayabusa
Reason: TBA
Connection: TBA
TBA
TBA
TBA
Quotes from All-Stars
Edit
TBA
Victory Theme
Edit
Intros and Outros
Edit
Introduction
Edit
TBA
Winning Screen
Edit
TBA
Losing Screen
Edit
TBA
Aveline's Lady

TBA
Aveline's Servant
TBA
 connor kenway as a minion who can be unlocked by reaching Rank 8 with Aveline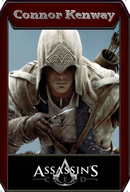 Ad blocker interference detected!
Wikia is a free-to-use site that makes money from advertising. We have a modified experience for viewers using ad blockers

Wikia is not accessible if you've made further modifications. Remove the custom ad blocker rule(s) and the page will load as expected.