Aya Brea is one of the main protagonists of the Parasite Eve series, and she is also a playable character in PlayStation All-Stars Battle Royale. Her in game rival is Alex Mercer from the Prototype series or Lara Croft from the Tomb Raider series.
Biography
Edit
Aya Brea was born in Boston, Massachusetts on November 20, 1972. She is of mixed ethnicity, as her father was of European descent and her mother, Mariko, was Japanese. Due to this, she has Asian facial features, such as the shape of her face and eyes, while possessing typically Nordicblue eyes and fair blonde hair. Aya had a sister named Maya who, along with her mother, died in an car accident in December 1977. After the loss of her sister and mother, Aya was raised by her father. Maya's organs were preserved, which allowed for one of her corneas to be transplanted into Aya at St.Francis Hospital when she was seven years old. One of Maya's kidney was transplanted into a young girl named Melissa Pearce. Unknown to any of the doctors, Maya Brea's mitochondria were highly evolved and began changing Aya and Melissa's genetic structure. As separation of the same species occurs, the two strains underwent different evolutions. As a young woman, Aya studied criminology at the University of Virginia, and was involved in their ROTC program. She later became a detective with the NYPD's 17th Precinct., forming a sort of father/daughter relationship with her partner and mentor, a veteran NYPD detective Daniel "Bo" Dollis
THE LEGACY OF AYA BREA
Opening.TBA
Edit
Name: Lara Croft or Alex Mercer 
Reason: TBA
Connection: 
TBA
TBA
Quotes and Taunts
Edit
TBA
Intros and Outros
Edit
TBA
Formal Wear

 

Edit
The default appearance of

 Aya Brea

Edit
Overdive Suit
Edit
A costume based on the one she wore in The 3rd Birthday
Business Suit
Edit
Is a DLC costume based on the outfit she wore in The 3rd Birthday
Casual Wear
Edit
Is a DLC costume based on the outfit she wore in Parasite Eve II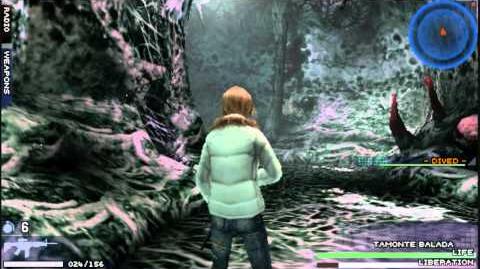 coming soon
Ad blocker interference detected!
Wikia is a free-to-use site that makes money from advertising. We have a modified experience for viewers using ad blockers

Wikia is not accessible if you've made further modifications. Remove the custom ad blocker rule(s) and the page will load as expected.