Bayonetta (born Cereza) is the eponymous main character and protagonist of Bayonetta. She is a coquettish and mysterious Umbra Witch who possesses remarkable talent for the bullet arts. After a 500 year slumber in a coffin submerged at the bottom of a lake and awakening without any memories apart from her status as a witch, Bayonetta fights to find the truth about her past. With the help of Rodin, her demonic informant, weaponsmith, and proprietor of The Gates of Hell bar, she is hounded endlessly by hosts of angels along the way.
Biography
Edit
20 years before the events of the game take place, Bayonetta is awoken from a casket submerged beneath a lake by reporter Antonio Redgrave. A mysterious power suddenly kills him as his son, Luka, watches from afar. Bayonetta promptly escapes and spends the next years hunting down answers to the past she cannot remember. After a deal with informant and associate Enzo to track down some new information, Bayonetta discovers that a gem known as the Right Eye, part of a set known as the Eyes of the World that she is searching for, is rumored to be in the European town of Vigrid. During her quest in Vigrid, Bayonetta has multiple run-ins with Luka (who holds her responsible for his father's death shortly after opening her casket), the Umbran Witch Jeanne (who is strangely adversarial towards Bayonetta and makes light of her missing memories), and a girl named Cereza (who insists that Bayonetta is her 'mummy'). She also encounters the four Cardinal Virtues who offer her cryptic warnings about the ast of the Lumen Sages plotting to user her and her power for something as yet unknown. Throughout her journey, bits and pieces of her memory keep pouring back in that start to fill in the blanks about the truth 500 years ago.
THE LEGACY OF AVELINE DE GRANDPR
bayonetta
bayonetta 2
anarchy reigns
TBA
Rival: Faith
Reason: TBA
Connection: TBA
TBA
bayonetta is a quick and agile physical attack specializing in aerial combos. He fights using a mixture of his Webbing and his fighting ability.
(Square Moves)
(Triangle Moves)
(Circle Moves)

(Throws)


(Trigger Moves)
(Super Moves)
"Lets dance!"
"You want to touch me?!"
"Your halo is mine!"
Quotes from All-Stars
Edit
I'm sorry. I forgot to mention one of the reasons I hunt your kind. You're much too ugly not to put out of your misery."
"You know, you're not nearly so ugly when you're screaming."
Yours is a face only a mother could love, and one I could never forget. If only I could remember where from..."
I'm not much for the talkative types. How about we have a little fun, instead? You did plan on having fun with me, right? There'll be plenty of time for pillow talk afterwards."
Prematch:
Item Pick-up:
"Let's rock, baby!"
"Don't fuck with a witch."
Put your foot down, Cheshire! I'll take care of our little pest problem."
As long as there's music, I'll keep on dancing."
Successful KO:
Oh, what a lovely tea party! And dancing, too!"
Tentacles! Why did it have to be tentacles?!""
Juu'nen hayain dayo!"
"Do you naughty little angels deserve a good spanking?!"
Victory Theme
Edit
Intros and Outros
Edit
Introduction
Edit
she in Panther Form run she Transformation  human form
bayonetta walking with her Shuraba
her fall on ground
Winning Screen
Edit
TBA
Losing Screen
Edit
TBA
old bayonetta version
white and blue guns
gray and yellow guns
oragne and greens guns
various A
Queen
D-arc
red and white
orange and pink
dark blue and light green
luka as a minion who can be unlocked by reaching Rank 8 with bayonetta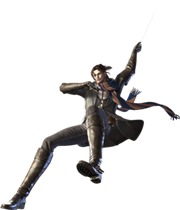 Ad blocker interference detected!
Wikia is a free-to-use site that makes money from advertising. We have a modified experience for viewers using ad blockers

Wikia is not accessible if you've made further modifications. Remove the custom ad blocker rule(s) and the page will load as expected.