Bentley is one of the main protaganists of the Sly Cooper series. He is one of Alexray35's DLC characters for PlayStation All-Stars 2.
Biography
ONCE AGAIN, BRAINS TRIUMPH OVER BRAWN
Bentley is the brains and explosives expert in the Cooper Gang, making all the plans for the heist. He also has two broken legs and is in a wheelchair. However, this does not stop stop him from going out into the field...or for showing All-Stars opponents whose boss.
THE LEGACY OF BENTLEY:
Sly Cooper and the Thievius Raccoonus
Sly 2: Band of Thieves
Sly 3: Honor Among Thieves
Sly Cooper: Thieves in Time
Arcade
Opening
Rival Ideas
Name: ERC-003

Reason:
Conection: Both Sly Cooper and Tokyo Jungle are games where animals are the protagonists. ERC-003 is a dog that traveled in time and Bentley has created a time machine. Bentley are a Turtle with a robotic wheelchair and ERC-003 are a robotic dog. Both are very smart. Bentley is an orphan and  ERC-003 was raised by wolves.

Names: Aiden Pearce
Ending
Gameplay
Movelist
(Square Moves)
(Triangle Moves)
(Circle Moves)

(Throws)
(Trigger Moves)
Quotes and Taunts
Taunts
Quote
Intros and Outros
Introduction
The Brains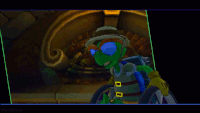 Winning Screen
Job Complete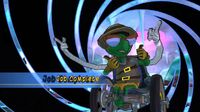 Losing Screen
Costumes
Turtle Carapace

The default aparence of Bentley, based on his appearance in Sly Cooper: Thieves in Time.
Red costume.
Purple costume.
Orange costume.
Ultimate Bentley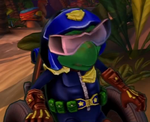 Ultimate costume from Sly Cooper: Thieves in Time.
Red skin.
Green skin.
Orange skin.
Old will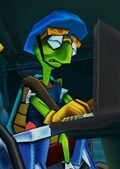 The default aparence of Bentley in 'Sly 2: Band of Thieves'.
Red skin
Yellow skin
White skin
Minion
Penelope can be unlocked by reaching Rank 8 with Bentley.
Gallery
Ad blocker interference detected!
Wikia is a free-to-use site that makes money from advertising. We have a modified experience for viewers using ad blockers

Wikia is not accessible if you've made further modifications. Remove the custom ad blocker rule(s) and the page will load as expected.