"Their emptiness makes me whole. Their weakness makes me strong. Their destruction is my creation."
—Calypso
Calypso is the main antagonist from the Twisted Metal series, and appears as a playable character and main antagonist in PlayStation All-Stars Battle Royale 2.
Biography
Edit
YOUR WISH...IS GRANTED
Calypso is the creator of the Twisted Metal contest. He grants any wish the contest winner desires, no matter what they desire. Wishes that are otherwise physically impossible are within his power. Calypso often punishes the winner with their own wish in some form of dark irony. This attribute, and his demonic-yet-charming demeanor means his character may have been inspired by the devil in folklore.
THE LEGACY OF CALYPSO
Twisted Metal
Twisted Metal 2
Twisted Metal III
Twisted Metal 4
Twisted Metal: Black
Twisted Metal: Small Brawl
Twisted Metal: Head-On
Twisted Metal (2012)
TBA
Rivals Suggestions
Edit
Name: Shao Kahn

Reason: TBA
Connection: Both are arguably the main antagonists of their franchises, and host a tournament that shares the name of their series (Twisted Metal tournament, Mortal Kombat tournament). They are also, in a sense, the strongest characters of their series, with Shao Kahn being one of the most brutal Kombatants, and Calypso having the demonic power to grant wishes, and then give them negative consequences. Both are able to resurrect the dead and are classic characters. Both come from video game series that are famous for their excessive violence.

Name: Tag

Reason: Calypso would see Tag as a Twisted Metal contestant, and since he is a silent character, would attack him for not stating his wish.
Connection: Both come from games that are based on vehicles. Tag is from a racing game, and Calypso hosts a vehicular combat tournament.

Name: Zeus

Reason: TBA
Connection: TBA
TBA
TBA
When Selected:
Prematch:
Item Pick-up:
Using Lv1:
Using Lv2:
Using Lv3:
Successful KO:
Respawn:
Special Quotes
Intros and Outros
Edit
Double Agent: 
TBA: 
TBA: 
TBA: 
If using TBA: 
If using TBA: 
If using TBA: 
If using TBA:
Idle Animation
Edit
Level 3

00:00-00:00

Edit
Victory Music
Edit
[Link TBA] (00.00 - 00.00)
[Link TBA] (00.00 - 00.00)
Level 3 Animations
Edit
Heihachi's Level 3: TBA
Big Daddy's Level 3: Calypso is swimming normally
Isaac Clarke's Level 3: Calypso is floating normally in space.
Sackboy's Level 3: Calypso's icon is in a bubble.
Host of Twisted Metal
Edit
The default appearance of Calypso from Twisted Metal (2012).
Alternate colors:
Calypso's appearance from Twisted Metal: Head On, with him having long balding grey hair and a black glass eye.
Calypso's appearance from Twisted Metal: Black, with him having a bald head and a black glass eye.
Sophie Kane
Edit
Sophie Kane can be unlocked by reaching Rank 8 with Calypso.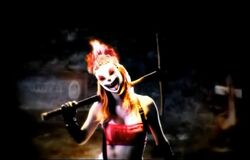 Ad blocker interference detected!
Wikia is a free-to-use site that makes money from advertising. We have a modified experience for viewers using ad blockers

Wikia is not accessible if you've made further modifications. Remove the custom ad blocker rule(s) and the page will load as expected.