Carmelita Fox is one of the main protaganists of the Sly Cooper series. She is one of Alexray35's DLC characters for PlayStation All-Stars 2. She makes a cameo in PlayStation All-Stars Battle Royale, in the "Alden's Tower" stage, which is a mash-up of inFamous and Sly Cooper (both were created by Sucker Punch Productions), when you get to the top of the tower, she is seen on the ladder of a helicopter that is swerving around the fighters and occasionaly, she'll shoot at the combatants on the stage.
Biography
Edit
I'LL BE SEEING YOU SOON...RINGTAIL
Carmelita is a Mexican vixen with brownish orange fur, a mole under her left eye, and waist-length black hair tied in a braid at shoulder level. Her ensemble includes a dark blue midriff-baring bra top that zips in the front, form-fitting dark blue pants, and a choker which her Interpol badge hangs from. She wears a light brown leather jacket and yellow gloves. She wears a lone earring on her left ear. On her feet are long black boots.
THE LEGACY OF CARMELITA:
Sly Cooper and the Thievius Raccoonus
Sly 2: Band of Thieves
Sly 3: Honor Among Thieves
Sly Cooper: Thieves in Time
Quotes and Taunts
Edit
Intros and Outros
Edit
Introduction
Edit
Winning Screen
Edit
Losing Screen
Edit
Normal: The default appearance of Carmelita, based on her appearance in Sly Cooper: Thieves in Time.
Blue coat/brown clothes
Red coat/black clothes
Green coat/blue clothes
Ultimate Carmelita
Edit
Ultimate costume from Sly Cooper: Thieves in Time.
Yellow skin
Purple skin
Green skin
Bellidancer
Edit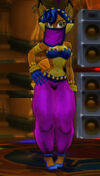 Normal: The bellydancer outfit from Sly Cooper: Thieves in Time.
Red
Blue
Green
Neyla can be unlocked by reaching Rank 8 with Carmelita.