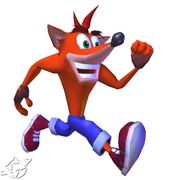 Classic Crash is a DLC costume for Crash Bandicoot in Playstation All-Stars Battle Royale. It's inspired by Crash appearance from Crash 1 though Crash Tag Team Racing.
Connection to All-Stars
Edit
This costume could be an unlockable costume for Crash.
Color Schemes
Edit
Orange fur, Flesh muzzle Blue shorts. (default)
Carbon fur, Grey muzzle, Teal shorts.
Black fur, Grey muzzle, Neon Red shorts.
Fushia fur, Purple muzzle, Green shorts.
Ad blocker interference detected!
Wikia is a free-to-use site that makes money from advertising. We have a modified experience for viewers using ad blockers

Wikia is not accessible if you've made further modifications. Remove the custom ad blocker rule(s) and the page will load as expected.