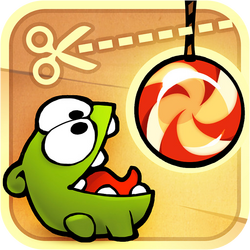 Cut The Rope
is a 2010 puzzle-game released on various pads and phones.
The objective of Cut the Rope is to feed candy to a little green monster named Om Nom while collecting stars. Cut the Rope has been downloaded more than femillion times since its release.
Connections to All-Stars
Edit
Om Nom can be a DLC playable
The Professor from Cut the Rope: Experiments can be a unlockable minion when you rank level 8 as Om Nom.
Cut the Rope is one of the 2 games that originated on a touch pad/phone, the other being Angry Birds.
Ad blocker interference detected!
Wikia is a free-to-use site that makes money from advertising. We have a modified experience for viewers using ad blockers

Wikia is not accessible if you've made further modifications. Remove the custom ad blocker rule(s) and the page will load as expected.