Faith Connors
 is the main protagonist in the 
Mirror's Edge
 series. An independent young woman, Faith detests how the city dictates the lives of its inhabitants and rebels against it as a 
Runner
. Faith seems to constantly become involved in the city's conspiracies due to her family connections or her circumstance as
Biography
Edit
Born into a family of four, with Faith growing close to her mother while Kate grew close to their father, Faith's parents were protesters against the rise of the totalitarian regime that was seeping into the City. With her father providing funds and leadership to the Libertas movement her parents brought their two children along to their protests. Faith and her sister, Kate, had seen their mother killed during the November Riots, crushed to death as others sought to escape. After her mother's death her father became depressed due to guilt to the point of alcoholism.
At the age of 16, Faith left her father and Kate, to live on the streets. Gradually resorting to petty thievery to survive she began robbing homes, including the Hideout of an ex-Runner named Mercury. Catching her in the act, Mercury took her under his wing and trained her to work for him as a Runner. 
THE LEGACY OF faith
mirrors edge
mirrors edge 2D
mirror edge 2 
TBA
Rival: bayonetta
Reason: TBA
Connection: TBA
TBA
(Square Moves)
(Triangle Moves)
(Circle Moves)

(Throws)


(Trigger Moves)
(Super Moves)
-  (Level 1) Wallrun Dash - Faith dashes forward, up and back down in an smooth arc movement, killing all in her path.
-  (Level 2) Gunship - Faith is pursued by a gunship's gatling guns. The guns will keep shooting at her and never hit, however anyone caught in the cross-fire is killed.
-  (Level 3) Reaction Time - Causes the screen to pulse blue. Similar to Big Daddy's, all other players are trapped in slow-motion while all your attacks become one-hit kills.
TBA
Quotes from All-Stars
Edit
TBA
TBA
TBA
TBA 
Successful KO:
Victory Theme
Edit
Intros and Outros
Edit
Introduction
Edit
TBA
Winning Screen
Edit
TBA
Losing Screen
Edit
TBA
Celeste
TBA
Kreeg
TBA
Kate Connors
TBA
kate as a minion who can be unlocked by reaching Rank 8 with faith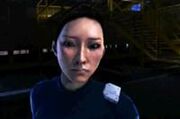 Ad blocker interference detected!
Wikia is a free-to-use site that makes money from advertising. We have a modified experience for viewers using ad blockers

Wikia is not accessible if you've made further modifications. Remove the custom ad blocker rule(s) and the page will load as expected.