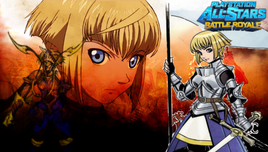 The main character of the First Party PSP RPG title Jeanne D'Arc
.
Biography
Edit
Daughter of the goat herder Jacques, Jeanne obtains the armlet from a knight and thus becomes involved in the war. She is often rash and hasty, leading to various accidents throughout the story. Although initially she only possesses hatred for the English, when she learns of the true conflict Jeanne resolves to save all of France and is thus very reluctant to hurt a fellow Frenchman, even if they are treacherous. But she remains compassionate and loyal to her friends, and would not hesitate to attack anyone who tries to hurt them.
Ad blocker interference detected!
Wikia is a free-to-use site that makes money from advertising. We have a modified experience for viewers using ad blockers

Wikia is not accessible if you've made further modifications. Remove the custom ad blocker rule(s) and the page will load as expected.