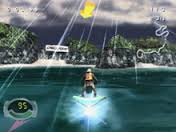 Jet Moto Bay is a could be DLC stage. It is a mix of Jet Moto and Dyad.
Jet Moto Side
Edit
Similar to Big Blue from SSB, Characters fight on the boats of Jet Moto Bay, such as Butterfinger. Landing in the water results in respawning.
Dyad Side
Edit
A Dyad Wormhole opens up around 1:05 on a 3 min clock, causing the boats to fly all over the place resulting in moving platforms.
Ad blocker interference detected!
Wikia is a free-to-use site that makes money from advertising. We have a modified experience for viewers using ad blockers

Wikia is not accessible if you've made further modifications. Remove the custom ad blocker rule(s) and the page will load as expected.