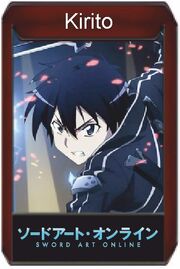 Biography
Edit
THE BLACK SWORDMAN
He is one of the greatest SAO player but not good at word due not having many friend and closing others off, he notable for have girlfriend whose name was Asuna (full name: Yuuki Asuna) in school and Wife in game, he is the fearest SAO player and also he defeat SAO boss.
Opening: TBA
Edit
Rival: Marco Rossi
Reason: TBA
Connection:  Both Character are protagonnist (Kirito in Sword Art Online, while Marco in Metal Slug series), the different is Kirito using Sword while Marco using Gun.
Ending: TBA
TBA
Quotes from All-Stars
Edit
When Selected:
"You realy want to team up with a beater?"
"I hope you're ready for this'
"Let's go"
Prematch:
"Get Ready"
"I won't go easy on you"
Succesfull KO:
"You're not worth fighting"
  Respawn:
"You're gonna regret this"
Intros and Outros
Edit
Introduction
Edit
TBA
Winning Screen
Edit
TBA
Losing Screen
Edit
TBA
Rank 8: Asuna
Rank 9: Leafa
TBA
Kirito (Full name: Kirigayo Kazuto) is main character or Sword Art Online series, he appeared as DLC playable character in Playstation Allstar Battle Royale.
Ad blocker interference detected!
Wikia is a free-to-use site that makes money from advertising. We have a modified experience for viewers using ad blockers

Wikia is not accessible if you've made further modifications. Remove the custom ad blocker rule(s) and the page will load as expected.