"Oh, this will be interesting."  -
Knack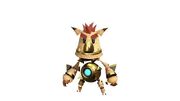 Knack is the main protagonist and only playable character in Knack and is a playable character in PlayStation AllStars Fanfiction Royale: G8K Version. He was one of the first six characters to be confirmed. His in-game rival is still unknown.
Biography
Edit
GET BIG IN NO TIME!!
A mysterious creature created by Gundahar, master of all Goblins. Years after his creation, he was found by Dr. Vargas and his wife Charolette and taken with for studies. Following Charolette's presumed death, the Doctor spent the next years studying the mysterious golden ball that would soon become Knack whom the Doctor planned on using against the recently aggressive Goblins. And now, a new and even more challenging adventure awaits.
THE LEGACY OF KNACK:
Knack's story opens as he is just playing around with Lucas at the garden. The Doctor approaches them telling Knack that there is new trouble arising and he needs Knack to see what's it about. Knack goes off with The Doctor and Lucas waving good-bye and good luck.
"Knack? Knack! Come on, over here, I've got great news. Apparently, there's a strong source of energy gathering a lot of deadly weird creatures. Oh you'd better see them for yourself. I've prepared an auto-piloted plain that'll take you to the place. I want you to get there and check out what this gathering is about and if it is any harm to mankind. (Knack nods and goes) Farewell, Knack! Good luck - hope to see you soon!"  - The Doctor
shellybean
Transcript
Edit
Returning home safe and sound and with another victory on his shoulders, Knack is welcomed back by Dr. Vargas and Lucas who ask him how the battles went and who that source of energy was. But Knack says that it was no problem but surpassed everything he's ever seen as of now.
"Oh, Knack? Didn't expect you to be back so soon. So, how did the battles went? Did you find out what that source of energy was or those warriors?"  - The Doctor
"I'm not sure what it was but it's defeated. And those warriors? Their battling style even surpasses their weird looks." - Knack

Quotes and Taunts
Edit
Intros and Outros
Edit
Introduction
Edit
Winning Screen
Edit
Losing Screen
Edit
Result Screen
Edit