Kuro is a Sony Computer Entertainment mascot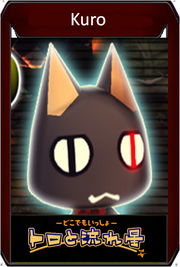 Opening: TBA
Rival: Jack Skellington
Reason: TBA
Connection: TBA
Ending: TBA
Kuro has three movesets based on his different forms -Kasanagi form, based on King of Fighters, Kurosumi form, based upon Dead or Alive and PatroKuros form, which takes moves from Soul Calibur.

In Kuro Kasanagi form:

In Kurosumi form:

In PatroKuros form:
Basketball Throw -  - Kuro throws the opponent upward.
Tripping Throw -  - Kuro yanks a blanket out from underneath his opponent.
 Flame Shot -  (Level 1): Kuro quickly turns into Kuro Kasanagi and gets a small flame shot ready, the longer he charge it, the bigger it gets.
Beach Volleyball -  (Level 2): Kuro quickly turns into Kurosumi and kicks a Volleyball, it ricochets off of walls, it kills opponents.
Alpha PatroKuros -  (Level 3): Kuro turns into Alpha PatroKuros and all of his attacks are really hard to dodge.
TBA
Quotes from All-Stars
Edit
TBA
Intros and Outros
Edit
Introduction
Edit
TBA
Winning Screen
Edit
TBA
Losing Screen
Edit
TBA
Rank 7: Toro
TBA
Ad blocker interference detected!
Wikia is a free-to-use site that makes money from advertising. We have a modified experience for viewers using ad blockers

Wikia is not accessible if you've made further modifications. Remove the custom ad blocker rule(s) and the page will load as expected.