Leah (pronounced Le-Ah) is the main protoganist of Diablo 3's storyline and is a playable character in Playstation Allstars Battle Royale.
Biography
Edit
"I WILL CARRY ON"
Edit
Leah is a girl born in Tristram, adopted by the wise Deckard Cain the Wise, and it is implied that she has a much darker origin.
LEGACY OF LEAH
Edit
Diablo 3 (PC)
Diablo 3 (PS3)
The opening takes place sometime before the start of Diablo 3. Leah and her uncle Deckard Cain are on an adventure, hearing of a new type of demon (Polygon-Man) that Cain wishes to document about. Leah is hesitant at first but her uncle convinces her anyway.
However, she tells Cain to head towards town while she documents this time to which he complies with minor difficulty.
Name: Morrigan, Witch of the Wilds
Reason:
Connection: Both were born for a darker destiny, to be a vessel for Flemmeth (Morrigan) and to be a host for Diablo (Leah). Leah and Morrigan also come from mystic ancestry. Dragon Age was also inspired by Diablo. 
She returns to her Uncle Deckard, with information about the demon. Though she was ill convinced that it was such a thing, she told him about it anyway.
(Square Moves)
(Triangle Moves)
(Circle Moves)

(Throws)
(Trigger Moves)
Super Level 1: Demonic Arrow Shot - (Level 1): Leah shoots an arrow runed with demonic power. 
Super Level 2: Super Demonic Wave - (Level 2): Leah launches a large wave of demonic energy, vaporizing anyone caught in its path.
Super Level 3: Sheablo - (Level 3): Leah transforms into... Diablo!
Villager From Tristram
Edit
Default Costume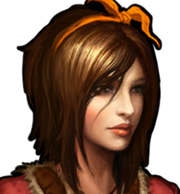 Waking the Demon
Edit
Leah as she is possessed by Diablo.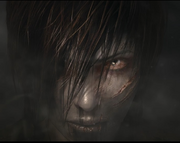 For gallery on Leah, go here .
She is the second character voiced by Jennifer Hale.
This is the first time you could play as Leah; you were only able to play as your own character in Diablo 3.
Ad blocker interference detected!
Wikia is a free-to-use site that makes money from advertising. We have a modified experience for viewers using ad blockers

Wikia is not accessible if you've made further modifications. Remove the custom ad blocker rule(s) and the page will load as expected.