Murray is one of the main protaganists of the Sly Cooper series. He is one of Alexray35's DLC characters for PlayStation All-Stars 2.
Biography
Edit
FEAR THE MURRAY Murray is a strong, muscular but slightly round hippopotamus who serves as the getaway driver and later team tough guy and fighter for the game's title character. He met both Sly and Bentley when the three of them were growing up in the Happy Camper Orphanage. Murray's driving skill came from his job as a pizza delivery boy, during which he hot-wired cars and was eventually fired for dropping (and, possibly eating) too many pizzas.
THE LEGACY OF MURRAY:
Sly Cooper and the Thievius Raccoonus
Sly 2: Band of Thieves
Sly 3: Honor Among Thieves
Sly Cooper: Thieves in Time
Quotes and Taunts
Edit
Intros and Outros
Edit
Introduction
Edit
Winning Screen
Edit
Losing Screen
Edit
The default aparence of Murray, based on his appearance in Sly Cooper: Thieves in Time.
Yellow t-shirt.
Red t-shirt.
Orange t-shirt.
Ultimate Murray
Edit
Ultimate costume from Sly Cooper: Thieves in Time.
Red skin.
Green skin.
Yellow skin.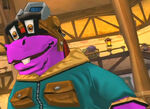 An outfist from Sly 2: Band of Thieves.
Red skin
Blue skin
Yellow skin
Guru can be unlocked by reaching Rank 8 with Murray.
Ad blocker interference detected!
Wikia is a free-to-use site that makes money from advertising. We have a modified experience for viewers using ad blockers

Wikia is not accessible if you've made further modifications. Remove the custom ad blocker rule(s) and the page will load as expected.