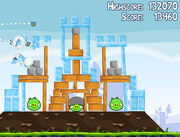 Piggy Valley should be a DLC stage for Playstation All-Stars Battle Royale. The stage should be a mash-up of
Angry Birds
and
When Vikings Attack!
Characters
Edit
Description
Edit
The stage starts out with a fortress made out of wood, crystal and stone along with some pigs hidden in there. Later, a Viking on a balloon ship from the roof-top levle from When Vikings Attack comes and destroys the  fort with bomb-balls and occasionally an egg (one with a Dino-Guy hidden) and He sucessfully destroys the fort and the pigs.
Ad blocker interference detected!
Wikia is a free-to-use site that makes money from advertising. We have a modified experience for viewers using ad blockers

Wikia is not accessible if you've made further modifications. Remove the custom ad blocker rule(s) and the page will load as expected.