PlayStation All-Stars: Round 2

Boxart
Developer(s)
NetherRealm Studios
Bandai Namco Entertainment
Naughty Dog
Publisher(s)
Sony Interactive Entertainment
Series
PlayStation All-Stars
First Release
TBA Post-2016
Genre(s)
Fighting
PlayStation All-Stars: Round 2 is a sequel to PlayStation All-Stars Battle Royale idea created by LeeHatake93. It would be developed exclusively for the PlayStation 4.
Story
After the defeat of Polygon Man, the All-Stars seemingly return to their everyday lives. However, their peace is short-lived after Twisted Metal's Calypso reveals his interest in the other worlds. Using a newfound power, Calypso decides to bring his Twisted Metal tournament to the next level, inviting not only the psychotic clown, Sweet Tooth, to the ring, but also the various fighters from other worlds, announcing the first ever Twisted Metal Multiverse Tournament. Instead of the traditional game of vehicular manslaughter, this time, Twisted Metal is a battle royale fighting tournament taking place in multiple worlds to find out exactly which participants deserve the title of "All-Stars". The winner, as usual, will have their wish granted, no matter what it may be. However, what could Calypso's true agenda be?
Modes
Single Player:
Story Mode: The game's story mode. It is told in a narrative manner similar to Mortal Kombat X, through a timeline screen like Persona 4 Arena Ultimax.
All-Star Mode: A mode where you fight every playable character in succession, ending with a one-on-one match against your chosen fighter.
Arcade: Play through each character's story, fight their rival, and face a reborn Polygon Man.
Training: A mode for praciticing character movesets, completing challenges, and getting an overall feel of the game.
Multiplayer
Battle Mode: An offline battle mode where up to four players may fight. Online friends may also be invited to the session.
Tournament: A traditional tournament mode like the ones in the Super Smash Bros series.
Online Match: A mode where players can battle people online. Includes Ranked Match and Player Match.
All-Star Mission: A mode that includes several battles and other challenges, with a variety of criteria. 
Extras
Store: A mode where players can quickly access the PlayStation Store for additional content.
Gallery: A mode that includes a gallery for character biographies, battle replays, and cutscenes from Story Mode, Arcade Mode, and Rival Battles. The game also supports the PS4's Photo Mode, which allows players to take detailed screenshots of their battles when viewing replays.
Customize: A mode where players can edit characters' movesets, intros, outros, and victory music, and choose their icons, backgrounds, and online titles. This mode also allows players to create their own PlayStation Avatar, and customize their movesets. Up to 50 can be created and shared online.
Supported Hardware
The list of ways to play the game other than using the DualShock 4 controller. 
PlayStation 4
DualShock 3 (via remote play on PlayStation TV systems)
DualShock 4
PlayStation Move Controllers (Not VR-compatible)
PlayStation Vita System (via Remote Play)
PC
DualShock 4 controller (via Remote Play)
Gameplay
The gameplay has seen an overhaul, more closely resembling the gameplay from the Super Smash Bros. series instead of the original Battle Royale. As such, characters now have normal combos, three "Impact Strikes", which are charged attacks like the Smash Attacks in Nintendo's series, four direction throws, and four special moves. Characters now have two finishing moves rather than only one. A Critical Strike, which is a move that inflicts a lot of damage, but is not guaranteed an instant KO, and a Final Strike, which is an instant KO move just like the Level 3 Super Move from PlayStation All-Stars Battle Royale. Final Strikes can only be performed after characters collect an AP Orb, which is similar to the Smash Ball item from the Super Smash Bros. series. Critical Strikes can be performed via filling an energy gauge, similar to the Super Meter from Battle Royale.
The game also supports the traditional features of the PlayStation 4 system, such as SharePlay, livestreaming, and Photo Mode. 
Characters
There are 71 characters in this roster, with 60 of them being first-party characters.
Yu Narukami is also playable as Joker from Persona 5, and both the male and female protagonists of Persona 3/Portable, with subtle moveset changes, technically bringing the roster up to 74 characters.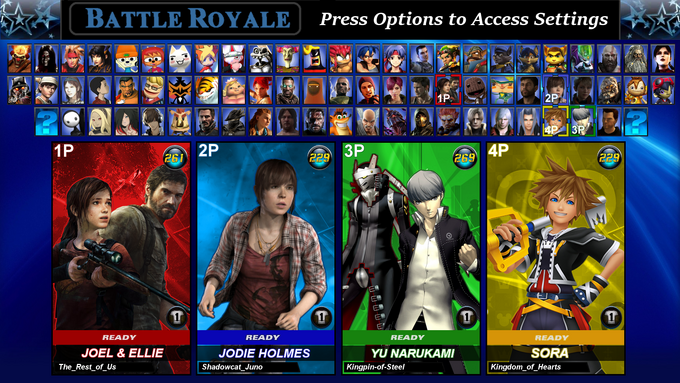 Character
Series
Sweet Tooth
Twisted Metal
Calypso
Twisted Metal
Dart Feld
Legend of Dragoon
Rose
Legend of Dragoon
PaRappa
PaRappa the Rapper
Lammy
UmJammer Lammy
Toro Inoue
Doko Demo Issyo
Spike
Ape Escape
Specter
Ape Escape
Sir Daniel
MediEvil
Zarok
MediEvil
Blasto
Blasto
Tomba
Tomba!
Vahn
Legend of Legaia
Rudy Roughnight
Wild Arms
Gabe Logan
Syphon Filter
Jak and Daxter
Jak and Daxter
Baron Praxis
Jak and Daxter
Sly Cooper
Sly Cooper
Carmelita Fox
Sly Cooper
Ratchet & Clank
Ratchet & Clank
Dr. Nefarious
Ratchet & Clank
Kratos
God of War
Zeus
God of War
Jennifer Tate
Primal
Colonel Radec
Killzone
Ico & Yorda
ICO
Wander
Shadow of the Colossus
Kid & Birddog
The Last Guardian
Rau Utu
The Mark of Kri
Buzz
Buzz! Quiz series
Uberhero
Patapon
Tigershark
InviZimals
Fat Princess
Fat Princess
Nariko
Heavenly Sword
Emmett Graves
Starhawk
Traveler
Journey
Cole MacGrath
inFamous
Delsin Rowe
inFamous
Fetch
inFamous
Nathan Drake
Uncharted
Joel & Ellie
The Last of Us
Sackboy
LittleBigPlanet
Iota
Tearaway
Ethan Mars
Heavy Rain
Jodie Holmes
Beyond: Two Souls
Kara/Conner
Detroit: Become Human
Hybrid Chimera
Resistance
Kutaro
Puppeteer
Tag
ModNation Racers
Lil & Laarg
Escape Plan
Kat & Dusty
Gravity Rush
Raven
Gravity Rush
Sinner & Accessory
Freedom Wars
Knack
Knack
Sir Galahad
The Order: 1886
Hunter
Bloodborne
Aloy
Horizon: Zero Dawn
Norman Reedus
Death Stranding
Snake
Metal Gear Solid
Crash Bandicoot
Crash Bandicoot
Heihachi Mishima
Tekken
Nightmare
Soulcalibur
Scorpion
Mortal Kombat
Akuma
Street Fighter
Leon S. Kennedy
Resident Evil
Dante 
Devil May Cry
Sephiroth
Final Fantasy
Sora
Kingdom Hearts

Yu Narukami

P3 Hero
P3P Heroine
Joker

Persona
Avatar
PlayStation Home
Stages
The stage crossover mechanic from Battle Royale returns.
Note: Due to the removal of BioShock in the sequel, the Stowaways and Columbia stages have been combined. Now, Dollface appears and attacks the airplane from Stowaways, instead of attacking Columbia.
Returning Stages
| Stage | Primary Series | Secondary Series |
| --- | --- | --- |
| Blackrock Stadium | Twisted Metal | Jak and Daxter |
| Dojo | PaRappa the Rapper | Killzone |
| Time Station | Ape Escape | Resistance |
| Graveyard | MediEvil | The Unfinished Swan |
| Sandover Village | Jak and Daxter | Hot Shots Golf |
| Paris | Sly Cooper | LittleBigPlanet 2 |
| Metropolis | Ratchet & Clank | God of War |
| Hades | God of War | Patapon |
| Invasion | Killzone | Ape Escape |
| Fearless | Heavenly Sword | WipEout |
| Alden's Tower | inFamous | Sly Cooper |
| Stowaways | Uncharted | Twisted Metal |
| San Francisco | Resistance | Ratchet & Clank |
| Dreamscape | LittleBigPlanet | Buzz! |
| Hekseville | Gravity Rush | Journey |
| Franzea | LocoRoco | Metal Gear Solid |
| Rival Arena | PlayStation | N/A |
| Boss Arena | PlayStation | PlayStation All-Stars |
New Stages
| Stage | Primary Series | Secondary Series |
| --- | --- | --- |
| Carnival of Carnage | Twisted Metal | War of the Monsters |
| Mountain of Mortal Dragon | Legend of Dragoon | The Last Guardian |
| PocketStation | Doko Demo Issyo | The Playroom |
| Kras City | Jak and Daxter | Driveclub |
| Augmented Reality | InviZimals | EyeToy |
| Red Kingdom | Fat Princess | Sorcery |
| Locomotion | Uncharted 2 | Warhawk |
| New Marais | inFamous 2 | Beyond: Two Souls |
| Curdun Cay | inFamous: First Light | The Last of Us |
| Salt Lake City | The Last of Us | ModNation Racers |
| Dreams | Dreams | Tearaway |
| The Infraworld | Beyond: Two Souls | Persona 5 |
| Mod Spot | ModNation Racers | LittleBigPlanet |
| Panopticon | Freedom Wars | Gravity Rush |
| Yharnim | Bloodborne | The Order: 1886 |
| Dark Horizon | Horizon: Zero Dawn | Shadow of the Colossus |
| The Cabin | Until Dawn | Death Stranding |
| The Warp Room | Crash Bandicoot | Knack |
| Mishima Estate | Tekken | The Mark of Kri |
| The Hub | PlayStation Home | PlayStation Worlds |
| The Netherrealm | Mortal Kombat | Bloodborne |
| Biohazard | Resident Evil | Days Gone |
| Mallet Island | Devil May Cry | Tekken |
| Twilight Town | Kingdom Hearts | Legend of Dragoon |
| Bullworth Academy | Bully | Persona 3 |
| Midnight Channel | Persona 4 | PlayStation VR |
| PlayStation Nation | PlayStation Now | PlayStation All-Stars |
| TBA | TBA | TBA |
| TBA | TBA | TBA |
Ad blocker interference detected!
Wikia is a free-to-use site that makes money from advertising. We have a modified experience for viewers using ad blockers

Wikia is not accessible if you've made further modifications. Remove the custom ad blocker rule(s) and the page will load as expected.