Rayne A.K.A. BloodRayne
 is a half human half vampire. She is the daughter of the Nazi Vampire and an unnamed human woman.
Biography
Edit
Rayne is a bloodthirsty Dhampir, born circa 1915-1916. Her mother was raped by her vampire father, Kagan. Kagan later murdered her mother's entire family so that the only family member Rayne could turn to is him. This wasn't cruelty, but a policy for all of the dhampir he "created", possibly so that humans wouldn't revolt and use the vampire/dhampir weakness of the sun, holy items and water against them Circa 1932, she spent her teenage years trying to hunt down and kill her father, to avenge her family. Her search led her to Europe, where she murdered Vampires before being apprehended. She claimed that her victims had been vampires, but was disbelieved by the authorities. She quickly managed to escape from them and continue her hunt. She was recruited into the mysterious Brimstone Society via an invitation. They sent her on missions to eliminate supernatural threats to the world. One of these missions required her to use her vampiric powers against the Nazis, who were on the verge of using magical artifacts to bring the demon Beliar back to life. Rayne also learned of a plan to use demonic parasites called 'Daemites' against the enemies of the Nazis, after they had been tested on prisoners. Rayne hunted the Daemites to their source, gaining the eye of Beliar in the process. She blew up the base and defeated the high ranking nazi Mauler in single combat. She traced Jurgen to Germany, and faced off with him and the reborn Beliar. Rayne managed to triumph over the both of them, and was told that her father had been found.
THE LEGACY OF RAYNEEdit
 Bloodrayne
 Bloodrayne 2
 Bloodrayne Betrayal
 Bloodrayne The Shroud
TBA
Rival: Lightning
Edit
TBA
Name:Lightning
TBA
TBA
Quotes from PlayStation All-StarsEdit
TBA
Intros and Outros
Edit
TBA
Introduction
Edit
TBA
Winning Screen
Edit
TBA
Losing Screen
Edit
TBA
Victory Theme
Edit
Rayne dress
Edit
TBA
Cowgirl Rayne
Edit
TBA
Schoolgirl Rayne
Edit
TBA
Dark Rayne
Edit
TBA
Ephemera appears as a minion who can be unlocked by reaching Rank 8 with rayne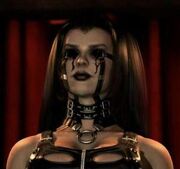 Ad blocker interference detected!
Wikia is a free-to-use site that makes money from advertising. We have a modified experience for viewers using ad blockers

Wikia is not accessible if you've made further modifications. Remove the custom ad blocker rule(s) and the page will load as expected.