Sunsprings
Edit
Sunsprings is a level idea for Twisted Metal and War of the Monsters
Description
Edit
It starts as Sunsprings and the fighters are fighting on the road with Twisted Metal cars driving by as background characters and stage hazards. Then Conger and Preytor come in and start fighting in the background and at first the cars try to take them down but then they give up and drive away.
Characters
Edit
Sweet Tooth car Darkside Reaper Talon Mr. Grimm Dollface Conger Preytor
It starts with the main Twisted Metal theme song then goes to the main War of the Monsters theme song.
Connections
Edit
Sweet Tooth is playable in WotM and 3 WotM posters are in Twisted Metal Head-On.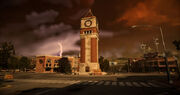 Ad blocker interference detected!
Wikia is a free-to-use site that makes money from advertising. We have a modified experience for viewers using ad blockers

Wikia is not accessible if you've made further modifications. Remove the custom ad blocker rule(s) and the page will load as expected.