Taven is the main protagonist and hero of Mortal Kombat: Armageddon and is a playable character in PlayStation All-Stars Battle Royale.
Biography
Edit
PREPARE TO JOIN THE NETHERREALM!
A demigod as well as one of a pair of two. Taven sets out to search for the artifacts that his immortal father and mother left behind for him and his brother all to stop Armegeddon from happening.
THE LEGACY OF TAVEN:
Mortal Kombat: Armegeddon
Mortal Kombat (2011)
Taven's story opens as he awakens from his hibernation, Orin tells him to go an attend the tournament that is currently being held so he may stop Armageddon. However, Taven takes a detour and turns up in a completly new tournament.
Name: Wizard
Reason:
Connection: Both are part of BL7's Kamen Kombat pitch.
Hero of Edenia
Edit
The default appearance of Taven.
Father's Momento
Edit
Taven's armour that he recieves during mid-Mortal Kombat: Armageddon.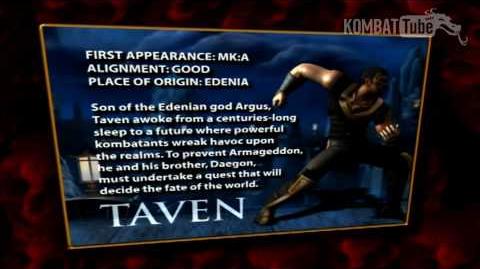 Taven page was made by Demon Killer (who, at the time, went by the username of Battlelord7.)
Many are to consider Taven as the Heroic counterpart to Kratos, mainly for their similarities.
Ad blocker interference detected!
Wikia is a free-to-use site that makes money from advertising. We have a modified experience for viewers using ad blockers

Wikia is not accessible if you've made further modifications. Remove the custom ad blocker rule(s) and the page will load as expected.