World War 2 DLC Edition is Playstation Allstar Battle Royale DLC Pack that contain new character and location, it's accounded that most of character are World War 2 era style.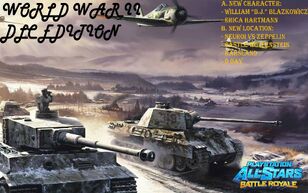 1. Character
William "B.J." Blazkowicz
Erica Hartmann
Sean Devlin
2. Location
Neuroi vs Zeppelin
Castle Wolfenstein
Karsland
D Day
Ad blocker interference detected!
Wikia is a free-to-use site that makes money from advertising. We have a modified experience for viewers using ad blockers

Wikia is not accessible if you've made further modifications. Remove the custom ad blocker rule(s) and the page will load as expected.